Principal Investigator
Sylvain Agostini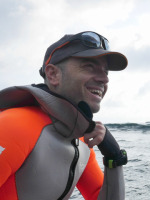 Assistant Professor Doctor of Science
Education
Doctor at Shizuoka University, Japan in 2009
Master: University of Aix Marseille II in Biology and Population of Marine Organisms (2005)
Undergraduate: University of Aix Marseille II in Biology of Marine Organisms (2003)
Awards
University of Tsukuba Best Faculty Member 2018
Japanese Coral Reef Society Kawaguchi Award for young Researchers 2018 JCRS webpage
Best Paper Award Coral Reef for the paper Agostini, Sylvain, Yoshimi Suzuki, Tomihiko Higuchi, Beatriz E Casareto, Koichi Yoshinaga, Yoshikatsu Nakano, et H. Fujimura. 2012. « Biological and chemical characteristics of the coral gastric cavity ». Coral Reefs 31 (1):147–156. https://doi.org/10.1007/s00338-011-0831-6.
Best Paper Award Japanese Coral Reef Society for the paper: Agostini, S., Y. Suzuki, B.E. Casareto, Y. Nakano, M. Hidaka, et N. Badrun. 2009. « Coral symbiotic complex: Hypothesis through vitamin B12 for a new evaluation ». Galaxea, Journal of Coral Reef Studies 11 (1):1–11.
Work Experience
(Pesent) Assistant Professor at the Shimoda Marine Research Center, University of Tsukuba
(2011-2012) Postdoctoral fellow "Coral Hub" at the University of the Ryukyus
(2010-2011) Postdoctoral fellow "New Coral Reef Science" at Shizuoka University
(2009-2010) Postdoctoral fellow "Global Coral Reef Conservation Project" (Mitsubishi Corporation) at Shizuoka University
Contact me : agostini.sylvain@shimoda.tsukuba.ac.jp
Postdoctoral Researchers
Dr Kugako Sugimoto: "Tara Jambio: Microplastic pollution in Japanese coastal waters"
Students
Joshua Heitzman (Doctor student): "Coral algae interactions and the "White Mat Syndrome" coral disease"
Yano Yuki (Master student): "Effects of OA on limpets: Ecological and behavioral study"
Teika Ryohei (Master student): "Effects of OA on the ecology and behavior of Goby fishes"
Guinther Mitushasi (Master student): "Taxonomical study of the corals sampled during the Tara Pacific Project"
Jonathan Ramtahal (Master student): "Tara Jambio: Microplastic pollution of Japanese coastal sediment and its effects on benthic organisms".
Hirata Akihiro (Master student): "Photophysiology of bleached corals"
Takenaka Hiroki (4th year undergraduate): "Japanese Parrotfish abundance and seasonality: implication for the phenomenom of Isoyake".
Internship
For more information on the internship program see: shimoda-international-internship-program-marine-biology
The program is suspended until further notice due to covid-19 pandemic restrictions.
Past members
Dr Sung Yin Yang (postdoc): "Effect of coral bleaching mitigation techniques on the coral microbiome"
Reimi Terayama (4th year undergraduate, ICU): "Photoinhibition and gross photosynthesis of bleached corals"
Klervi Lugue (master internship): "Cold shock response of the corals Acropora solitaryensis and Porites heronensis under OA"
Giuseppe Belfiore (master internship): "Sponges communities at the Shikine Island CO2 seep"
Risa Takimoto (4th year undergraduate, ICU): "Thermal performance of the warm temperate coral Porites heronensis under OA"
Wataru Yamazaki (Master): "Thermal performance of the warm temperate coral Porites heronensis"